27 Sea Ray with EZ Buff
Hi Boaters; I mentioned in my last post that we were getting positive feedback on our new products. James was kind enough to share a picture with us of his 27 Sea Ray after he treated it with EZ Buff and Premium Boat shine. What do you think?




I'm forwarding these pictures of my boat, to let you know what a great job your products do. I used Boat scrub, EZ Buff, EZ Buff extender, and Boat Shine. I've used numerous products in the past, with terrible results. My 27 Sea Ray looks the best it has since buying it in 2003.

- James SIEGEL

Thanks James. I don't think you could get a better shine on a brand new boat. Well done!

Captain Aurora
Richard Kittar
Skipper's Blog
Hi all,

Sorry, I haven't posted in months. Since the introduction of our new products, we have just been slammed. The ask the skipper blog has kept me so busy that I haven't been able to post all the responses, however, I've tried to respond personally, to as many inquires as possible. Eventually I'll get them posted.

I've posted a brief You Tube video of our new EZ Buff buffing cream, with the best intentions of writing a full step by step series of videos, and it's captured the attention of thousands of boat owners. Here's a link: https://www.youtube.com/watch?v=uq59sTf6fJc I think that half the boat owners in North America have been waiting for this product. We're starting to get feedback and it's all positive.


| | |
| --- | --- |
| Before | After |
EZ Buff and EZ Buff Extender were invented for DIY but a lot of professional detailers are stepping up to the plate and buying the products instead of using the old fashioned solvent based rubbing compounds that were invented for use on cars. EZ Buff is easy to use. The Extender lubricates the surface so there are no swirl marks or burn through, and the results are fantastic. No wonder everyone wants to get their boats looking shiny and new again.
You've only got about a month to get your boat ready for what promises to be the best summer ever. If you need any help, send an email to "Ask the Skipper" and I'll try to help.
I promise to post more often.
Captain Aurora
Richard Kittar
EXHIBIT AT THE IBEX SHOW TAKING PLACE IN LOUISVILLE, KY SEPTEMBER
Pontoon Dealer Starter Package to be showcased at This Leading Industry Event for the Marine Industry

Louisville, KY – September 15-17, 2015 – Aurora Marine Industries Inc. will participate as an exhibitor at the International BoatBuilders' Exhibition & Conference (IBEX) taking place at the Kentucky Exposition Center, Louisville, KY in Booth 957. We are pleased to showcase our Pontoon Dealer Starter Package with Free Buffer Kit. Pontoon Dealer Starter Package is everything you need to Clean, Brighten, Restore, Protect and Antifoul Your Customers Aluminum Pontoons in Just a Few Hours!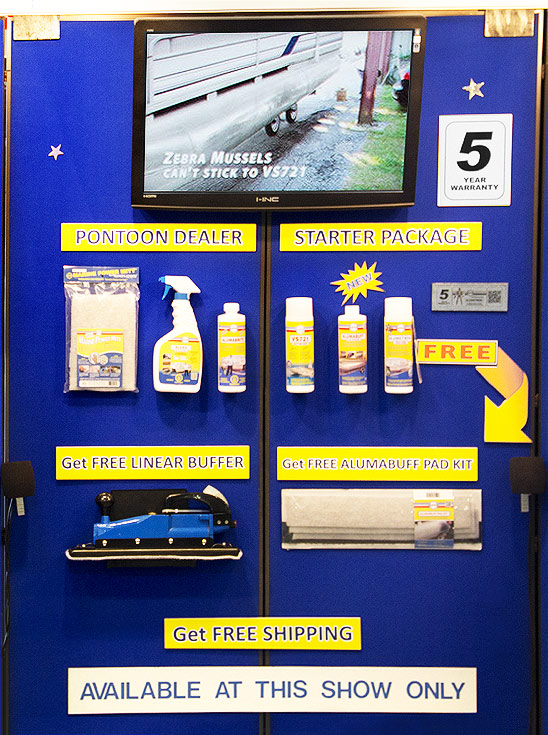 Alumabuff is Fast Acting Aluminum Buffing Compound, easiest and fastest way to clean aluminum of the stains, streaks and white cloud.

Alumetron will protect your pontoon up to 5 years, it fights corrosion and keeps your pontoons looking Shiny and Clean.

VS721 is Clear, Fouling Release Coat for pontoon that is environment Safe Alternative to Toxic boat bottom paint!

Algex is the best aluminum boat bottom cleaner. It Safely Removes Algae, Barnacles and Zebra Mussels.

Marine Power Mitt can be used with Alumabuff for hand buffing and for accessing areas where buffer can't reach.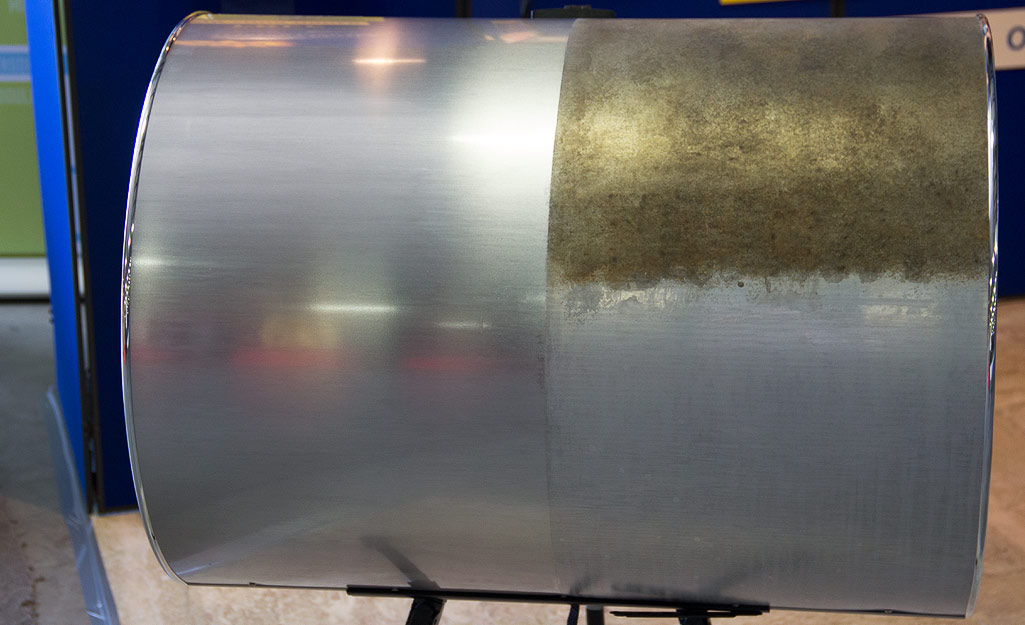 PROTECTED &
ANTI FOULED
UNPROTECTED &
ACID WASH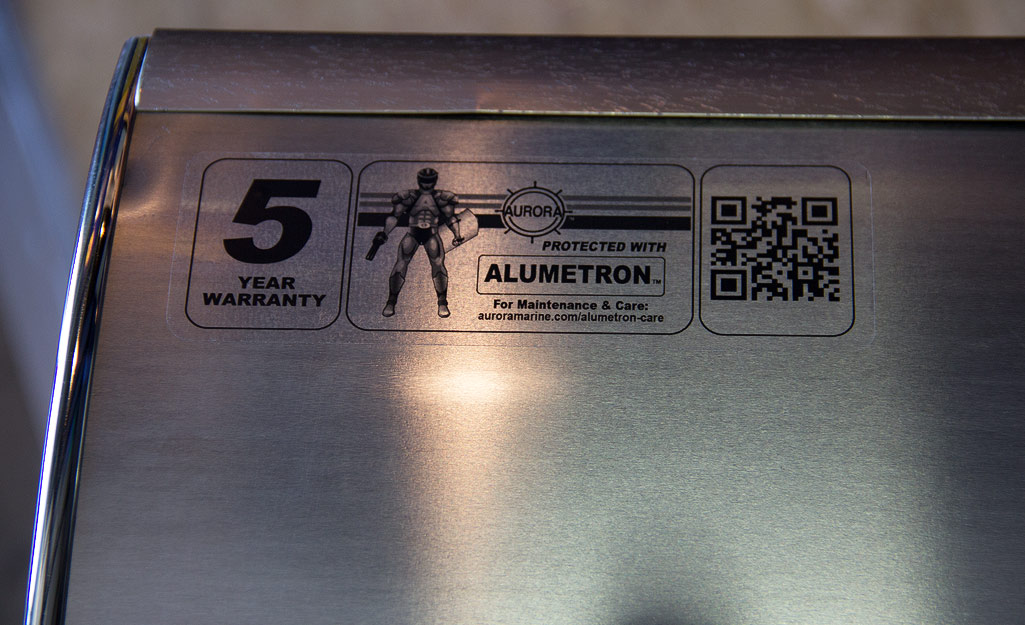 5 Year Peace of Mind
Warranty
About Aurora Marine Industries Inc.
Over the past 36 years, Aurora Marine has been specializing in the invention, manufacture and distribution of innovative and unique products for the care, restoration and protection of pleasure boats. Since their inception, they have been making Green Products, that work and backing all their products with an enviable Customer Satisfaction Guarantee, proving that you don't have to destroy the planet to enjoy your boat. For More information, visit
www.auroramarine.com
.
About IBEX
IBEX will be held September 15-17, 2015 at the Kentucky Exposition Center, Louisville, KY. IBEX is owned and produced by Professional BoatBuilder magazine and National Marine Manufacturers Association (NMMA). For more information, visit
www.ibexshow.com
, email
info@ibexshow.com
, or call 1-207-359-7791.